Bangladesh Foreign Direct Investment
| | |
| --- | --- |
| ✅ Paper Type: Free Essay | ✅ Subject: Business |
| ✅ Wordcount: 1184 words | ✅ Published: 14th Sep 2017 |
What is FDI?
Foreign direct investment (FDI) is defined as "investment made to acquire lasting interest in enterprises operating outside of the economy of the investor." The FDI relationship consists of a parent enterprise and a foreign affiliate which together form a Multinational corporation (MNC). In order to qualify as FDI the investment must afford the parent enterprise control over its foreign affiliate. The UN defines control in this case as owning 10% or more of the ordinary shares or voting power of an incorporated firm or its equivalent for an unincorporated firm; lower ownership shares are known as portfolio investment. Foreign direct investment (FDI) plays an extraordinary and growing role in global business. It can provide a firm with new markets and marketing channels, cheaper production facilities, access to new technology, products, skills and financing. For a host country or the foreign firm which receives the investment, it can provide a source of new technologies, capital, processes, products, organisational technologies and management skills, and as such can provide a strong impetus to economic development. Foreign direct investment, in its classic definition, is defined as a company from one country making a physical investment into building a factory in another country. This book presents the latest thinking in the field.
Bangladesh Foreign Direct Investment Chart   
Foreign Direct Investment in Bangladesh increased by 1834 USD Million in 2015. Foreign Direct Investment in Bangladesh averaged 930.00 USD Million from 2002 until 2015, reaching an all time high of 1834.00 USD Million in 2015 and a record low of 276.00 USD Million in 2004.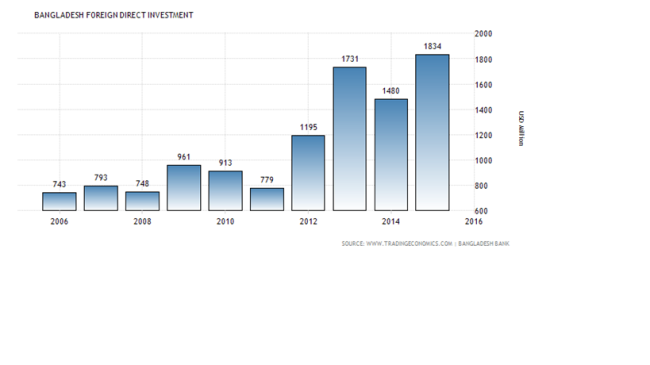 Foreign Direct Investment (FDI) is the acquisition of managerial control by a citizen or corporation of a home nation over a corporation of some other host nation. Corporations that widely engage in FDI are called multinational companies, multinational enterprises, or transnational corporations. FDI traditionally implies export of real capital from home to the host nation, but even when economic investment results from FDI, capital may not be transferred from the home nation to the host one. Rather, multinational corporation may acquire/utilize real capital from local (or a third-nation) sources foreign capital" means capital invested in Bangladesh in any industrial undertaking by a citizen of any foreign country or by a company incorporated outside Bangladesh. In the form of foreign exchange, imported machinery and equipment, or in such other form as the government may approve for the purpose of such investment;.Bangladesh invites FDI for industrial growth, in particular welcoming establishment of manufacturing firms and service sector enterprises that would sell their products within the country and also export outside it.
4.8 Flow of FDI in South Asia:
FDI Inflow by south Asian countries

Country

FDI Inflow

India

$2300 million

Pakistan

$308 million

Sri Lanka

$217 million

Bangladesh

$170 million

Nepal

$13 million

Maldives

$12 million

Bhutan

Not Recorded

Source: Internet
Significance of foreign investment in Bangladesh:
Foreign investment carries enormous significance in a developing country like Bangladesh. Realizing the importance of foreign investment Bangladesh formulated its first industrial investment policy in 1973, revised it again in 1974, 1975, and in 1978. Foreign private investment (Promotion and protection) act, 1980 and the Bangladesh Export Processing zones authority act 1980 were enacted. To make the foreign investment more attractive new industrial policy was announced in 1982. However, the industrial policy 1999 is by far the most comprehensive document. Bangladesh has ever made for investment including foreign investment.
FDI is recognized as a powerful engine for economic growth. If is a weapon of developing the Bangladesh economy and can play an important role in achieving the countries socio economic objectives including poverty reduction goals.
FDI allows transfer of capital technology which is not possible though financial investment in goods and services.
FDI bring new technologies that are usage not available in the target countries. Foreign corporations also bring new know how and managerial skills into the target country.
Bangladesh is hestorcally recognized as a well established and reputable jurisdiction in which to conduct business and investment friendly with out discrimination between foreign and domestic investment.
Conclusion:
The history of Bangladesh exemplifies the plethora of Factors that have shaped the country, particularly through reforms in economic policy and public management. The investment regime has undergone a complete Transformation via privatization and trade liberalization. These factors have allowed the Country to adapt in an increasingly interdependent, global economy and Bangladesh has successfully reaped many benefits of foreign investment. Though the country is performing much better than the dire straits of extreme poverty during the 1970s and 1980s, it remains poor and populous with very low income per capita. Such inadequacies have stifled growth and development. Therefore, FDI is pivotal in providing Bangladesh the necessary finance and capital to achieve sustainable growth as well as poverty alleviation. Statistical analyses were used to exemplify the essential function of foreign investment in maintaining economic growth. FDI inflows have been able to increase GDP by raising the economy's output capacity and full-employment level. At the same time, it has also delivered development by improving per capita income levels. These enhancements are allowing the country to become more export-oriented and continue on its quest for development. Overall, FDI can provide the necessary tools for Bangladesh to progress further and realize higher growth levels by utilizing all its resources to their fullest potential.
References
https://books.google.com.bd/books/about/Foreign_Direct_Investment.html?id=imwnAQAAIAAJ&redir_esc=y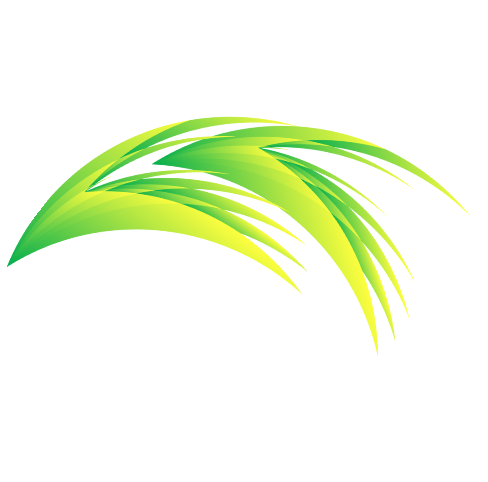 Cite This Work
To export a reference to this article please select a referencing stye below:
Reference Copied to Clipboard.
Reference Copied to Clipboard.
Reference Copied to Clipboard.
Reference Copied to Clipboard.
Reference Copied to Clipboard.
Reference Copied to Clipboard.
Reference Copied to Clipboard.
DMCA / Removal Request
If you are the original writer of this essay and no longer wish to have your work published on UKEssays.com then please: