PT Bumi Resources (BUMI) International Corporate Governance
| | |
| --- | --- |
| ✅ Paper Type: Free Essay | ✅ Subject: Business |
| ✅ Wordcount: 2655 words | ✅ Published: 13th Sep 2017 |
Individual report on International Corporate Governance
PT Bumi Resources Tbk (BUMI) is one of the largest mining companies in Indonesia, and listed in Indonesia stock exchange. The company has a reputation as the largest companies that produce coal in Indonesia. BUMI is part of the Bakrie Group which was also a subsidiaries company from Bumi plc before disband in 2013 (now known as Asia Resources Mineral Plc)
Bumi plc is a leading FTSE (Financial Time Stock Exchange) that listed as one of thermal coal group with interest in the largest coal assets in Indonesia. The company primary activity is to explore, mine, and process coal. Bumi plc was formed in 2011 by the majority owner, Bakrie Group and Rothschild family.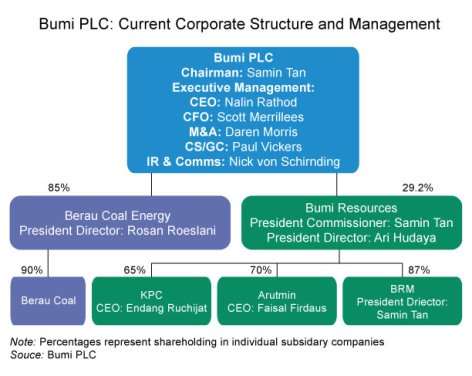 Shareholder Information
PT Bumi Resources Tbk.
per 7 February 2017
NO.

NAME

ADDRESS

TOTAL SHARES

%

1

CREDIT SUISSE AG SG BRANCH S/A CSAGSING-LHHL(LHHL-130M)-2023334064

BUT DEUTSCHE BANK AG

8,477,485,702.00

23.15

2

PT DAMAR REKA ENERGI

BNI SECURITIES, PT

2,300,000,000.00

6.28

3

RAIFFEISEN BANK INTERNATIONAL AG, SINGAPORE BRANCH S/A LONG HAUL HOLDINGS LTD

BUT. STANDARD CHARTERED BANK

1,264,213,935.00

3.45

4

HYLTON INVESTMENTS LIMITED

PT OSO SECURITIES

900,000,000.00

2.46

5

PT. SOUTHEAST CAPITAL INVESTMENT

PT Bank UOB Indonesia

900,000,000.00

2.46

6

OTHERS

21,528,602,138.00

58.78

35,370,301,775.00

96.58
CASE    
The conflict started after Nathaniel Rothschild announced the investigation of the Bumi plc subsidiaries, BUMI. Rothschild accused the management of Bumi Resources had misappropriated the funds from Bumi Plc. It comes up after the auditor of Bumi plc, Pricewaterhouse Coopers LLP, found the management reduced US$ 247 million of BMI's development fund and US$ 390 million exploration costs of PT Berau Coal Energy into zero except one investment of US$ 39 million. The conflict was getting bigger when Rothschild announced that he wanted to replace the management of Bumi plc because of the management did not concern and protect the interest of the minority stockholders. As the owner of BUMI, Bakrie tried to protect their assets, then rejected the Rothschild demand to replace the management of BUMI. The market was surprised because BUMI was a very big, strong, and powerful company that owned by the group led by well-known businessman in Indonesia, Abu Rizal Bakrie. The stock price of Bumi Plc and BUMI was drop significantly after the conflict arose to public. BUMI stock price was drop 160 point (19,05 percent) to RP. 680 per stock in Indonesia Stock Market. Meanwhile, Bumi plc drop 48,3 point (24,66 percent) to 147,6-pound sterling per stock in London Stock exchange. Because of this situation, many speculations said that it was Rothschild's strategy to lower the price of Bumi plc so that he can buy the stock and increase the ownership in Bumi plc and takeover the company with cheaper price. Then, after a few investigations, Bumi Plc's auditor, Pricewaterhouse Coopers LLP could not prove the underlying asset on a number of these funds. While James Kallman, Managing Partner Mazars Indonesia to become the auditor of BUMI told Reuters that the BUMI has revealed the correct data.
Get Help With Your Essay
If you need assistance with writing your essay, our professional essay writing service is here to help!
Essay Writing Service
However, In the years 2010-2011, PT Bumi Resources is one of the three Bakrie Group companies which have been negligent pay taxes amounting to Rp 376 billion, a third of the total of Rp 2.1 trillion. There was also a statement from Gayus H Tambunan said Bakrie Brothers had paid deposit of US $ 7 million, or approximately 65 billion rupiah to clean up the issue of their tax mounts
Then, after investigation, it was found two mischief made by the company.
First, it found deficiencies Fund payment Coal Sales Results (DHPB) in 2003-2008, reaching US $ 143.189 million. "However, that figure has not been adjusted to the state-owned financial report 2008 of US $ 608.178 million.
Second, BUMI had underpaid the royalties period 2003-2008 which amounted to US $ 477.299 million. These tax arrears occurred in 2007. As a result, total liabilities reached on the state of US $ 1.228 billion.
This table below shows stock price of PT Bumi from 2003-2012
| | | | | | | | | | |
| --- | --- | --- | --- | --- | --- | --- | --- | --- | --- |
| 2003 | 2004 | 2005 | 2006 | 2007 | 2008 | 2009 | 2010 | 2011 | 2012 |
| 500 | 800 | 760 | 900 | 6000 | 910 | 2425 | 3025 | 2175 | 590 |
As the table shows that the stock price fluctuations are dramatically decreasing in 2008 with the range of Rupiah 910 /share, while in 2007 at the highest value of Rp 6000 /share, until the end of 2012 recorded its share price in range Rupiah 590 /share.
There are 2 factors that BUMI mentioned about what influenced their stock price:
The first factor is the reduction in profit because of the cost of production increase / ton by 9.2% and does not balance the increase selling price.
Another factor is the high financial expenses paid and losses on derivatives transactions. BUMI financial report notes, the number of expenses which needed to be paid the higher of its profits alone. This is certainly showed the poor ability to pay the debt (solvency) BUMI in paying its debts. If it continues like this bank will issue an
Auto act of rejection (automatic termination prices stocks due to a significant increase or decrease).
Analysis
Based on the case, the problems were begin when management failed to control the company and affect to the existence of fraud investigation because misappropriation of assets. The main problem is because of the failure of the good corporate governance mechanism in BUMI. Good corporate governance by boards of directors is recognized to influence the quality of financial reporting, which in turn has an important impact on investor confidence (Levitt, 1998; Levitt, 2000). There is also an agency conflict which is different goals and interests among individuals in an agency relationship. Agency theory presupposes that individuals are opportunistic, that is, they constantly aim to maximize their own interests (Bohren, 1998). Thus, there is no guarantee that agents will always act in the best interests of principals. Rather than, there is a constant temptation for agents to maximize their own interests, even at the expense of principals.
The Role of Directors
Overall, weak board of directors is the main issue, lack of clarity on the roles of individual directors and the board, their slows decision-making and poor strategic alignment also hampers a board's ability to prioritize issues and set their near-term agendas, such as the accumulation of their debts which is keep increasing over time.
The election of the company was also subjective, ex-CEO Indra Bakrie just elected Samin Tan as a chairman without any election to replace him. The trust issue among the directors and investors also play a major role as the directors of the company cannot maintain the trust of its investors. Poor responsibilities among director also can be seen in this company as in march 2013, seven commissioners and three directors of BUMI submitted their resignation. At that time, BUMI was facing a lot of issues. Like any effective working group, a board should be comprised of professional peers who respect and work well with each other, not running away from the company's problems.
Relationship with others
BUMI has a relationship with few parties outside company, such as financial institution, which is lead to Gayus H Tambunan confessions about BUMI had paid deposit to clean up the issue of their tax mounts, however there was not enough evidence for this. The company also has a good relationship with Aji Wijaya, one of the best lawyer member of Bakrie team.
Corporate Governance Model
For the purpose of this case, there are two diverging models to flesh out the contrasts between them, which is 'Anglo-Saxonic' and the 'entrenched' governance models, primarily because the former is widely accepted and acknowledged as having provisions for robust governance mechanisms and the latter because the subject matter of the case concerns Indonesia-a country supposedly characterized by a strong politico-business relationship.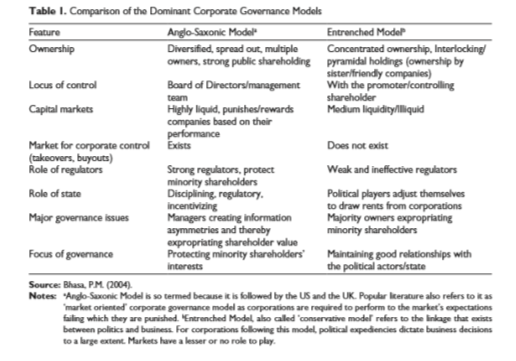 Anglo Saxonic model
The Anglo-Saxon model is the most dominant theory championed by the United States and the United Kingdom. This is evidenced, by the practice of many corporations in other countries which uphold the shareholders' system such as Australia, New Zealand, Canada, South Africa and majority of South East Asia Countries. The model is characterized by arm's length relationship between corporations and investors who are said to be concerned primarily about short-term returns (Frank and Mayer, 2004). The Anglo-Saxon model is based on the corporate concept of fiduciary relationship between the shareholders and the managers motivated by profit-oriented behavior. One of the most distinctive aspects of the Anglo-Saxon system is the structure of corporate ownership where the share ownership is widely dispersed and shareholders influence on management is weak. Apparently, the central preoccupation of corporate governance in the Anglo-Saxon system is to protect the interest and rights of the shareholders.
Find Out How UKEssays.com Can Help You!
Our academic experts are ready and waiting to assist with any writing project you may have. From simple essay plans, through to full dissertations, you can guarantee we have a service perfectly matched to your needs.
View our services
The owner of BUMI, Bakrie which is politician, use Entrenched model and it is more like the opposite of Anglo saxon model because the company will focus only the relationship between politics and business, so the company often lost the trust among investors as I mentioned before. This model occurs when there is a little chance that poorly performing managers will be replaced. In my opinion, Anglo Saxon model will be useful if the company try to implement this model. However, they need to increase the company's transparency first as corruption is a major issue here.
Evaluation of Corporate Governance
The Audit procedure enables a detailed structure to be performed during the audit and to upkeep the auditing standards and also during the field work that will enable to achieve a particular audit objective. Below is the standard audit procedure in Indonesia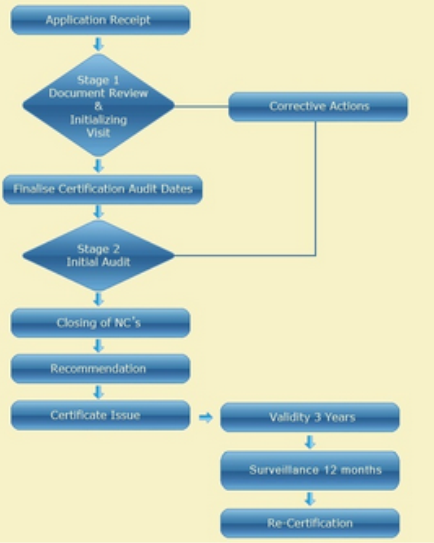 However, corruption in government agencies has become a common knowledge in Indonesia. Therefore, a good financial report doesn't mean that the company apply a good corporate governance. A lot of auditor has received a deposit to clean up the financial report of a company. They can manipulate the financial statements that is called "window dressing", such as lowering income or raising the cost so the profits will be smaller than it should, and many other ways. Manipulation to the financial statements above, are not easily found by the auditors, especially if the type of audit is not a special audit (audit investigative). Gayus case also indirectly imply the manipulation of financial statements in BUMI. Based on this, the technique of corporate governance in BUMI is relatively poor. In 2013, BUMI could not submit their financial report on time, and it was not the first time, and it repeated again in 2014 and 2015. Dileep Srivastava, who is the director and corporate secretary of BUMI explained that it was due to the confirmation from creditor of the company.
Conclusion
Many of Good corporate governance aspects was missing in BUMI, the major one are transparency and responsibility. There's a lot of speculations that are not proved yet but still, this is lead to many bad assumptions for the company, and if this true, it's caused harm for society. The poor management of the company to reduce their debts almost lead them to bankruptcy and make investors lose their trust. But this case also shows an example of failure between European and Indonesian corporate cooperation. As the difference goals among individuals directors, corporate governance model and also some lack of intercultural understanding between both sides.
Recommendations
As a big and well known company in Indonesia, BUMI should be able to apply good corporate governance. The first step, they need to give some clear explanation to public in details as there's a lot of issues that's remains unclear and soon will be forgotten. The company also needs to improve their management not as individuals but as a team. The company also requires having the discipline and commitment to implement policies, resolutions and strategies. The leaders of a company should design and adhere to a code of ethics that helps management promote each of the important characteristics of good corporate governancee (fairness, responsibility, transparency, accountability)
References
http://www.kompasiana.com/harrybudiyanto/memperdagangkan-opini-audit_54fffc87a33311ad6f50f831
http://www.cnnindonesia.com/ekonomi/20150408154929-92-45101/terlilit-utang-bumi-resources-telat-rilis-laporan-keuangan/
http://www.indonesia-investments.com/zh_cn/news/news-columns/agreement-reached-in-separation-of-bakrie-group-and-bumi-plc/item511
http://ias-indonesia.com/iso-audit-procedure/
https://iptaana.wordpress.com/category/materi-softskill/akuntansi-internasional/standar-audit-akuntansi-global/
Dignam, A., Galanis, M. (2009) The globalization of corporate governance, Farnham, UK: Ashgate Publishing.
Cite This Work
To export a reference to this article please select a referencing stye below:
Reference Copied to Clipboard.
Reference Copied to Clipboard.
Reference Copied to Clipboard.
Reference Copied to Clipboard.
Reference Copied to Clipboard.
Reference Copied to Clipboard.
Reference Copied to Clipboard.
DMCA / Removal Request
If you are the original writer of this essay and no longer wish to have your work published on UKEssays.com then please: