SEGA SAMMY Business Analysis
| | |
| --- | --- |
| ✅ Paper Type: Free Essay | ✅ Subject: Business |
| ✅ Wordcount: 5452 words | ✅ Published: 13th Sep 2017 |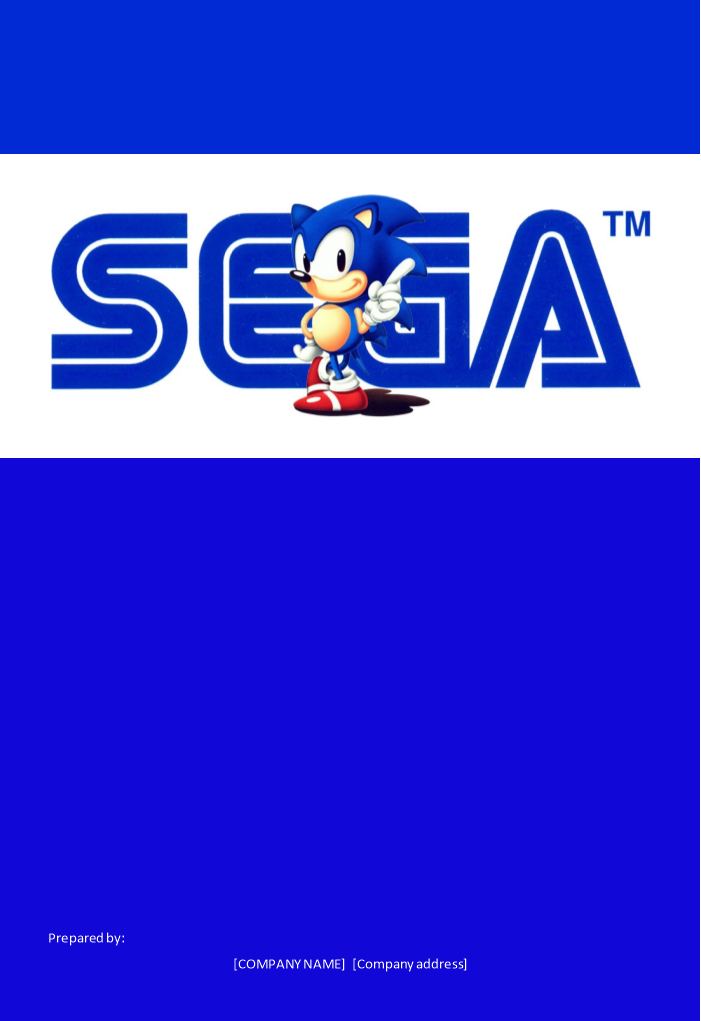 SEGA SAMMY holding is a Japanese multinational company whose business focus on Pachislot and Pachinko Machines, amusement park, resorts, and digital game. In 2001, before joining Sammy Inc., Sega rationalised the video games console business due to significant financial losses. In 2013, the digital game business unit has suffered for declining of packaged games as mobile phone penetration rapidly increased around the world. It has reshuffled their business to focus on digital mobile games. However, in 2015, about 80% of Sega's digital games turnover are from domestic market, Japan and the market condition of digital games in Japan was forecasted to have a smoothen market growth (see further detail on Appendix 1. SWOT Analysis).
Sega is well known for its multi-million selling game franchises such as Sonic the Hedgehog, which is one of Sega's most successful game series and the world's most popular arcade game producer. The successes of Sonic the Hedgehog had made the character become the company official mascot since 1991 and well known as the fastest runner among other games' characters. Innovation is needed for Sega's digital game business unit to face smoothen growth of one of its core business, digital mobile games and Sega's dependency to domestic market.
Figure 1 Market Growth of mobile games in Japan (in %)

Source: digital economy, Statista, 2016
This report sheds light on the current situation at the digital game business unit and analysis how Sega can innovate within this division using a set of innovation frameworks.    
The proposed innovation for Sega Sammy's digital games business unit is to develop a new mobile application which merge the avatar concept game and running application. The new mobile application will be called Sonic Run following the well-known character of Sega Sonic as the fastest runner character in the game industry. The Sonic Run will give interactive running experience which encourage runner to run extra miles and offer player to be healthier which is in line with business model innovation for Sega.
Get Help With Your Essay
If you need assistance with writing your essay, our professional essay writing service is here to help!
Essay Writing Service
The Sonic Run mobile application will require players to run by choosing available challenges to be accomplished, and convert their result into unique algorithm then finally specific points. Players are also given an avatar and able to personalise their Sonic own characters based on the points collected. The avatar will be developed upon completion of challenges as well as over the levels of difficulties. Guidance and challenges will be will be given visually and verbally. Player is also able to track speed of their run, calories burn, and running history via the application.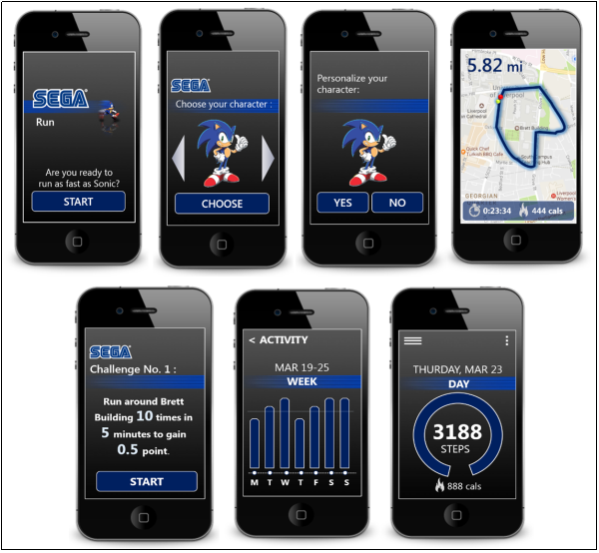 Source: Prepared by Authors
By providing a radically different gaming and fitness experience, the proposed paradigm innovation of Sonic Run repositions and changes consumer perception of Sega's brand. The role-play feature will allow users to have an avatar allowing them to engage more with the experience and the brand. Additionally, the AR interface offers a unique proposition of mixing reality with the gaming experience.
In addition to the rising trend in health and fitness, the growth of smartphones penetration, and consequently mobile apps, presents a promising opportunity for Sega. Simultaneously in the past three years, the Japanese mobile-game app market has nearly doubled to become the largest of its kind in the world (Sega Annual Report, Appendix C). Japan alone accounts for 26% of the global games market, and ranks fourth in terms of revenue size in the global health and fitness market (Reference- Appendix C?). Furthermore, Japanese users tend to be early adopters of game innovations, and are more likely to engage with gaming characters as Role Playing Games (RPGs) are highly popular in the country, and provide a significant monetization opportunity (reference). This gives Sega substantial incentive to break boundaries and innovate in the digital game and fitness sectors for the Japanese market. Therefore, in the next 3 years, Sega aims to provide value-added services through innovative gaming experiences.
To do this, the company needs a change of paradigm by transforming the underlying framework of its business model. As there are already several popular purely-gaming and fitness apps in the Japanese market, there are few-to-none that combine the best of both with the RPG genre. Hence, by creating a Blue Ocean that targets an unexploited area and leverages the opportunity of changing customer behaviours and the growth in digital games, Sega can redefine the digital game and fitness app industry by developing a smartphone 'exergame' app that offers both entertainment and fitness benefits through role play.
This paradigm innovation will require Sega to develop and offer an app in a way it has never done before, and will drive radical changes at the organization. For instance, developing this app will require the integration of Augmented Reality and GPS based technologies, which are relatively unfamiliar domains for Sega. AR is a type of interactive technology that takes the capabilities of a computer-generated display, sound, text and effects, and integrates it into the user's real-world experience (Techopedia, 2017) while geolocation is the process of tracking the exact geographical location of a mobile device by using its built-in Global Positioning Systems (GPS) (Techopedia, 2017). The entire development process and revenue model of this app will be drastically different from Sega's previous ventures thereby shifting the company's paradigm in the way it will do business.
VARIM Analysis
Value. By providing an experience that combines both gaming and physical fitness, Sonic Run offers new value to customers who will be required to run or jog to accomplish the many challenges in the app, thereby changing the overall customer perception of Sega. The app will use a unique algorithm to convert information about the distance run, routes covered, speed, calories burnt, etc. into scores for a chosen Sonic avatar.
Adaptability. Sega will need to adapt new Augmented-Reality technology.
Rareness. The app provides a unique experience by combining both gaming and fitness.
Inimitability. There is a moderate risk of other companies' capabilities to imitate the app (Competitor Analysis Appendix). However, Sega can patent the application in Japan.
Monetization. Sonic Run will be available as both free and paid versions. In addition to generating revenue from advertising, the free package will incorporate in-app purchases (reference Investopedia) while the premium version will generate revenue from subscription fees. Furthermore, the app's integration of augmented reality and reliance on GPS-technology will enable Sega to accurately track users' location which can be used to gain revenues from Geo-location advertisements (reference marketing land). To increase customer visits, potential clients can advertise their events or store in both the free and paid versions of the app by being included in the game as part of a challenge.
Figure 3 Sega's Current Business Model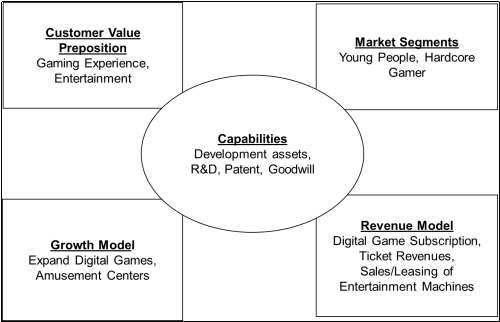 Source: Prepared by Authors
Figure 4 Sega's Business Model Innovation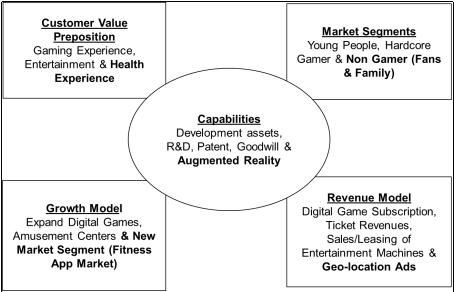 Source: Prepared by Authors.
Customer Value Proposition. The inclusion of the health and fitness element in the Sonic Run app will allow Sega to offer a new value and unique health experience to users who will be required to complete the challenges in the game and score points by running or jogging. Furthermore, the app will use the Sonic character as a virtual trainer to help users practice, run and stay fit by choosing from a range of specific exercise programmes for certain time periods (i.e, daily, weekly or monthly).
Market Segment. The app's combination of fitness and gaming will also enable Sega to target beyond its current market-segment, and attract non-gamers as well in the Japanese market. These shifts in Sega's positioning with the launch of Sonic Run will help lure a new targetfor the company apart from young users, hardcore gamers, and loyal Sonic fans who are likely to be between the ages of 25 to 45 years old (considering the average age of Sonic consumers). The app will aim to attract non-gamers and runners who lead a healthy lifestyle.
Growth Model. Penetration of the Japanese mobile market, which has a robust projected growth and forecasted CAGR of 11% from 2017 to 2021 (statista Fitness Japan), and represents the strongest growth potential for Sonic Run.
Revenue Model. As discussed in the VARIM analysis, since Sonic Run will be a location-reliant app with unique features and game rules that involve physical activities such as running and jogging, Sega can use this to its advantage to generate revenue from location-based advertising.
Capabilities. As an established company, Sega already has strong assets and capabilities such as capital, human resources, R&D teams, a reputed brand name, patents and goodwill, thus giving it the ability to innovate in the unfamiliar domain of AR technology and adapt it into its new business model innovation. Furthermore, Sega can easily form partnerships with mobile game development studios to research, and share AR-related knowledge to develop the Sonic run venture.
Intellectual Property and Patent
As a new entrant in the 'exergame' app market, Sega will need to have a strong patent portfolio to develop Sonic Run and generate revenues from the app. However, the presence of established players in the market will make it difficult for Sega obtain these patents and register for intellectual property. (Appendix- Competitor analysis)
One major challenge the company may potentially face is during the "Freedom to operate" process whereby the firm's copyright protection, trademarking and licensing have to be officially registered to allow Sega to freely develop, manufacture and sell the app globally. For the company to overcome these IP challenges, it will be essential to put in place an effective, well-structured FTO search process.
Highly Competitive Japanese market
There is limited smartphone usage in Japan, but intense competition in the gaming app market. Japan generates top game revenues globally with popular local games dominating the market. This will intensify competition for Sega which will have to leverage its established presence in Japan to successfully launch the app. It will also need to localize and adapt Sonic Run for the Japanese market by taking creative UI designs, language and culture into consideration and working with local creative and marketing agencies (Appendix-Market analysis)
Customer Lifetime Value
Apps tend to have short customer-lifetime-values and user retention can pose quite a challenge. To ensure repeat app usage, Sega will have to keep its users engaged by offering high quality sophisticated levels and challenges in the game. Sega could also location based advertising to incentivize users to keep using the app by offering mobile specific rewards for Sonic Run users such as coupons, special promotions etc.
Application Complexities
There are several technical complexities in developing an AR fitness game app such as bugs and glitches, keeping up with app store changes and updates, etc., which could potentially annoy users. The Company's new venture department will have to ensure that its app is updated at all times by carrying out a thorough test run of the app before the launch, and constantly performing routine checks to ensure there are no bugs in the app.
Marketing Plan
Figure 5 Sonic Run's Marketing Plan
Marketing Objectives

Actions

Launch app in the Japanese market

Collaborate with local Japanese creative agencies and advertising companies.

Publish teaser on Sega's social media platforms.

Promote location-based ad subscriptions for business clients

Set variable monthly prices subscriptions from US$ 60 to US$ 600

Contact Potential Advertising Companies (B2B Customers)

Acquire active users

Implement App Store Optimization.

Cross-promote through existing apps.

Use social media influencers to review and promote the app.

Promote the app in the Japanese media.
Source: Prepared by Authors
Financial Plan
According to Hajime Satomi, CEO of Sega Sammy Holdings, Sega aims to "Re-invest cash to foster growth drivers" (Annual Report 2016). Therefore, the new venture department responsible for developing the Sonic Run app will strive to leverage this funding from the parent company, primarily, to adapt the AR technology into designing the overall game, which is forecasted to cost around 228 Million Yen, and expected to break-even in three years (Appendix).
Figure 6 Forecast of Sega Run's Monthly Active User (in Million)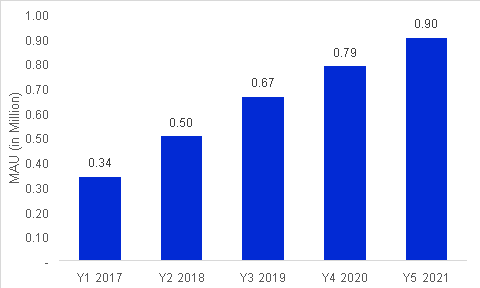 Source: Prepared by authors. Following assumptions available at appendix f: Financial Plan    
A portion of this cost represents high spending in the first two years on anticipated marketing, training and development expenses. The initial marketing expenditures will be used to heavily promote the app and push current Sega game users to use Sonic Run while the HR spending will be used to train and develop the internal R&D and marketing teams within the new venture department to help Sega achieve value maximization in the long-term.
Figure 7 Forecast of Sega Run's Financial Performance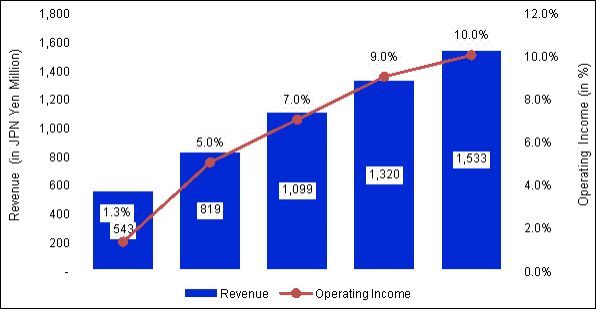 Source: Prepared by Authors. Refer to Appendix G: Financial Plan
Management and Operational Plan
Sega owns valuable tangible and intangible resources that equip the company to compete in the game industry. However, to build the new proposed application, SEGA lacks in geolocation and augmented reality (AR) technologies. As this app will require the company to exploit existing resources and provide a favourable environment for radical innovation, Sega will collaborate with business partners to set up a new in-house corporate venture department to research into developing the app and gain new skills and expertise in geolocation and AR technologies as the Company's new innovative venture will involve going into new markets in addition to its current market (burgleman, 1984, pg 396 table). The new venture department will also enable SEGA to exploit underutilised resources and grow its business without having to share its knowledge and competitive competencies with outsiders.
Figure 8 Sega Run's position as Corporate Venturing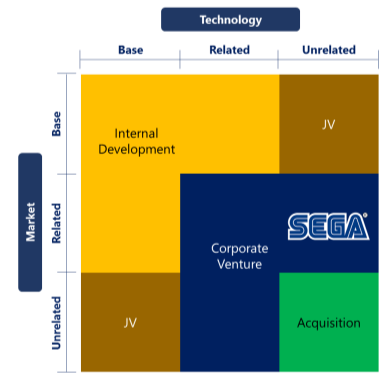 Source: Prepared by Authors
Figure 9 Sega Run's Timeline Implementation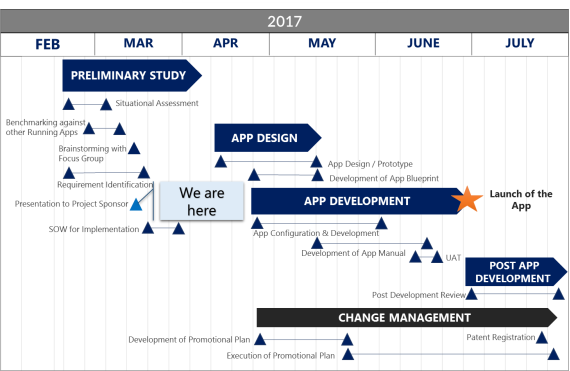 Source: Prepared by Authors
Appendix A: Market Analysis
Games Market Geographic Segmentation The Asia Pacific region accounts for 47% of the global games market. Of this share, Japan, China and South Korea together represent 87.5% of the region's market (Newzoo, 2016).
Figure 10 Geographic Segmentation of Games Market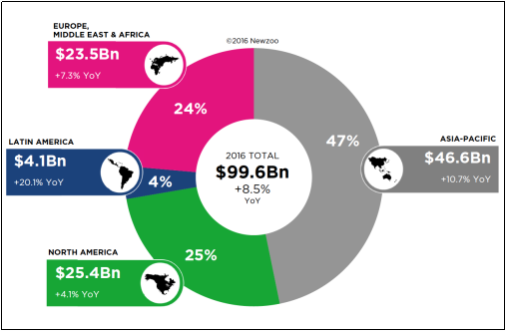 Source: Newzoo – Global Games Market Report Premium (2016). Available at http://Newzoo.com/globalreportpremium/
Figure 11 Games Market in Asia-Pacific Region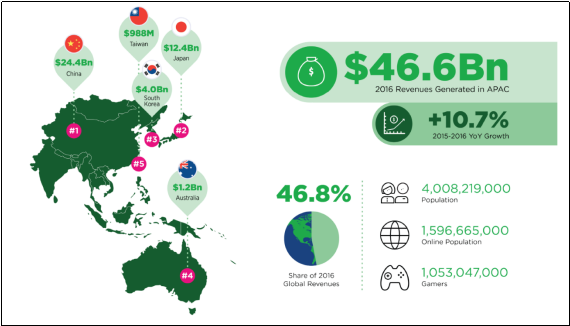 Source: Newzoo – Global Games Market Report Premium. Newzoo.com/globalreportpremium/
Software Games Market Segmentation
The software gaming market can be segmented into TV/consoles, casual web games, handheld devices, tablets, mobile phones and PCs. Tablet and mobile phones represent 37% of total market revenue and are the main divers for growth in the games market, with a projection of more than 5% until 2019 (Newzoo, 2016).
Figure 12 Global Games Market 2016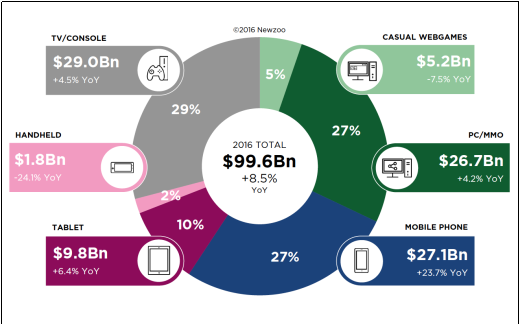 Source: Newzoo – Global Games Market Report Premium. Newzoo.com/globalreportpremium/
Figure 13 Segmented Global Games Market – Growth Expectancy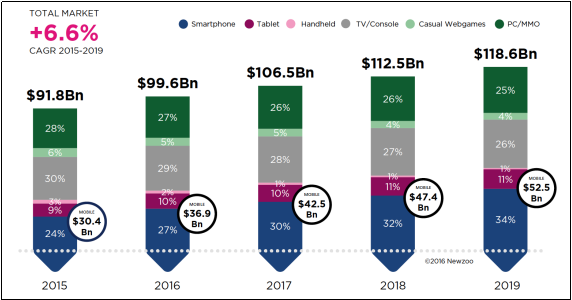 Source: Newzoo – Global Games Market Report Premium. Newzoo.com/globalreportpremium/
Despite the falling trend, the gaming market in Japan is expected to double in revenue size, with major prospects for the mobile games market (check if below graph contradict with graph under paradigm innovation???).
Graph 5.  Games Market in Japan – Growth Expectancy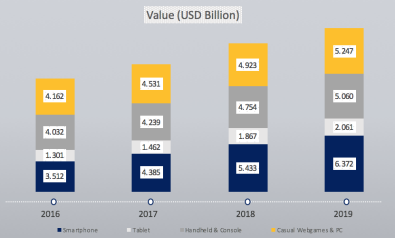 Source: Mintel and NewZoo combined data
Health fitness Market in Japan
In 2021, the wearable and app health and fitness market in Japan is expected to double in revenue size. In fact, with a revenue size of US$ 235,3 million, Japan ranks 4th in this market. (Source: Digital Economics, Statista, December 2016)
Figure 14 Health and Fitness Market in Japan – Growth Expectancy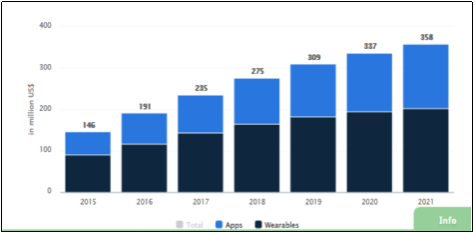 Source: Digital Economics, Statista, December 2016
Appendix B: PESTLE Analysis
Political
Debates about video games leading to violence have been going on for decades. Numerous death cases have been reported since the 2000s where people killed by murderers who are obsessed with video games. Amongst the worst case was when two students killed 12 students, a teacher, and themselves in the Columbine High School US. The two were allegedly obsessed with the video game Doom (BBC, 2001).
American Psychological Association (APA) in 2013 has established a task force to review more than 100 studies on violent video game use published between 2005 and 2013. They concluded that playing video games can increase aggressive behavior and thoughts, while lessening empathy and sensitivity toward aggression (Sifferlin, 2015).
Economic
The region also projected to have substantial growth in market spending as a proportion of GDP. South Korea' spending rate is projected to grow from 63.5% to 72.1% (what year to what year?). China's spending rate is expected to increase from 23.4% in 2016 to 37.7% in 2020. Vietnam follows the trend with 20.6% to 32,4%, and Japan is forecasted to grow from 27.9% to 37.8% for the same period.
Figure 15 Retail Market Spend as Proportion of GDP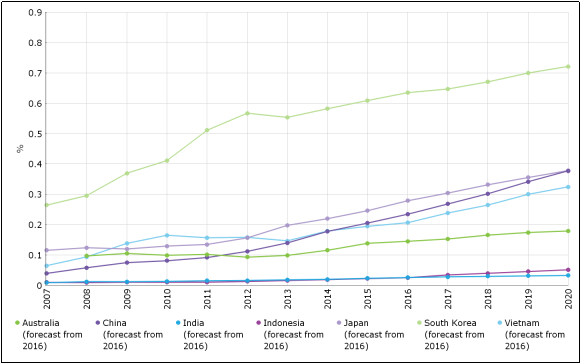 Sources: IGEA, Economist Intelligence Unit, VG Chartz Ltd., Korea Creative Contents Agency, Company Information, Trade Interviews, Mintel
Social

Declining world population growth rate
United Nation forecast world population rates to continue decline.  All 6 continents are expected to show only moderate birth rate gains from 2016 to 2020 which might lead to negative effect to game industry.
Figure 16 Average Annual Rate of Population Change by Major Area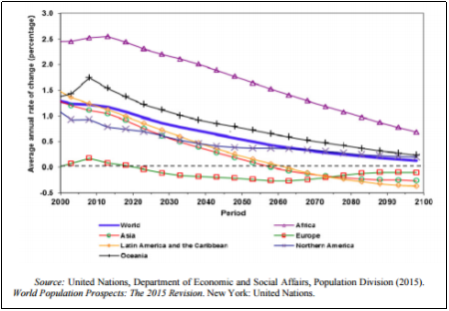 Rising of scientific and educational toys
Scientific and educational toys are new types of competitor for game industry. There are successful scientific and educational toy producers such as VTech and Leapfrog with high unit price of product such as electronic learning toys and in the market and the industry is moving toward educational toys and games (Euromonitor, 2016).
Technology

Virtual Reality (VR) and Augmented Reality(AR)
Games industry evolve in fast changes in technology.  There are frequent new and enhanced product introductions and obsolescence of older products. Currently, VR and AR bring new horizon for the industry. Oculus Rift, HTC Vive and Sony PlayStation VR are amongst top brand. In the medium term, VR/AR is set to gain importance as a platform for not just video games but also digital entertainment content in Germany and Europe. Global volume sales of AR/VR headsets to reach 10.7 million units in 2017 (Euromonitor, 2016).
Figure 17 Global AR/VR Headset and Video Games Software (excluding mobile)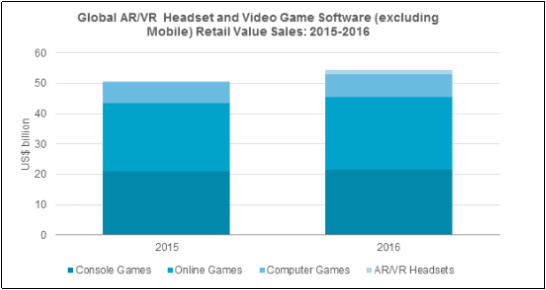 Source: Euromonitor International
Legal
There are numerous legal and regulatory considerations which games software developers need to bear in mind when developing their products, such as; intellectual property rights, age ratings & classification, advertising laws, data protection & privacy and gambling legislation.
Environmental
Greenpeace has raised concerns to console makers on hazardous materials and e-waste. Nintendo hit bottom of the list in the group's last ranking of environmentally responsible companies. Greenpeace also warns that the potential environmental impact of the virtual world is greater than we might guess. Games companies need to avoid what's been called the "dirty cloud", and power their monolithic internet enterprises with renewable energy (Westaway, 2015).
Appendix C: Porter's Five Forces Analysis
| | |
| --- | --- |
| Porter's Five Forces | Intensity |
| Competitive Rivalry within the Industry | Medium |
| Customer Influence | Low to Moderate |
| Threat of New Entrants | Low to Moderate |
| Supplier Influence | High |
| Threat of Substitute Products | Low |
Competitive Industry Rivalry – Sega's focus towards mobile users will further intensify competition
Strong rivalry within the mobile fitness app industry and volatile Japanese gaming market could further intensify in the future due to low barriers to entry in the mobile gaming business. Competition will be on factors such as game and content quality, user experience and retention, brand recognition, and access to the app stores. Rapidly evolving mobile platforms and the introduction of new technologies pose an additional challenge. However, combining the features of gaming and fitness with role play gives Sonic run a competitive advantage and reduces or eliminates competition for the app.
Limited smartphone fitness gaming app options reduce users' market influence
It is highly unlikely that users will gravitate toward other apps as they currently do not have many smartphone fitness gaming options. Most existing smartphone games do not allow for physical movements while most fitness app do not offer entertainment or role play therefore allowing Sega to easily acquire and grow its user base. The larger its player base, the more revenues the company will earn from its business clients through advertisements. The company should also try to converts it free users to paid users.
High barriers to entry reduce threat of new entrants
The constantly evolving mobile gaming market requires significant resources to develop and market the app. In addition, newer players lack the scale and network efforts that bigger players enjoy, thereby raising barriers to entry. Additionally, new entrants will have to face the same barriers as Sonic Run, and are highly unlikely to have the resource capacity as Sega to cope with them.
Supplier Bargaining Power – Apple and Google may have high bargaining leverage over Sega
Sega will publish SR on mobile platforms such as Android and iOS which will account for a majority of its revenues and business. To launch SR, a payment fee will also have to be made to these platforms which do not rely heavily on Sega for their profits. This gives them substantial power over Sega as they are uniquely positioned as a key source of distribution, marketing, and promotion for the app. Additionally, an alteration in the stores' terms of service, fee structure and policies could significantly and unilaterally impact Sega. Furthermore, these 'suppliers' may roll out advanced versions of their platforms and publishers like Sega may be required to migrate to these new platforms by having to upgrade SR. Failure to do so could result in FB, Android, IOS related businesses to drop in the future.  Sega will have to, therefore, work closely and establish strong relationships with the people that run the app stores these suppliers to avoid any issues.
Threat of Substitute Products – Increased popularity and adoption of other entertainment apps, social networks and sites could make it difficult for Sega to engage and retain user. Promotion and user retention strategies might be implemented to encourage users to spend more time on Sonic Run and prevent users from abandoning the app.
Appendix D: SWOT Analysis
Figure 18 Sega's SWOT Analysis
STRENGTHS

WEAKNESSES

Strong Sega Sonic Brand name and its established perception as the fastest runner character in the game industry
Established presence in Japan
Product diversification
Strong structure and resources within the company

For digital games, Sega depends heavily on the Japanese market which accounts for 80% of its digital revenues.

OPPORTUNITIES

THREATS

Increasing number of mobile phone user
Growing trend towards increasingly high-end digital game content
Growth potential of the digital game market overseas.
High market growth potential of fitness app & increasing healthy lifestyle trend among users.
Potential partnerships with other mobile games studios

Highly competitive market
Softening growth for digital games (Japan)
Source: Prepared by Authors
The increasing number of mobile phone users has led to the popularity of smartphones. In 2017, Statista forecasted that mobile phone internet user penetration will reach 63.4% in 2019[1]. This serves as a driving force for mobile game developers to venture into high end digital gaming content as mobile users continue to update and follow new technology developments and trends. The annual game developer conference in Brighton last summer highlighted a key fast changing trend in the gaming industry which is now shifting to VR (virtual reality), physically collaborative games, AR (augmented reality), and personalised designs[2].
The AR (Augmented Reality) is predicted to far outpace VR in 2020[3]. Reason include the technologies ability to easily integrate with other systems and enable physical activities by mixing reality with animation.
The increasing awareness of mental illnesses and healthy lifestyles has created opportunities for key players in this field[4]. This awareness also linked to future trend of game design and specification to involve more physical activities. Sega's intellectual property of the renowned Sonic the Hedgehog character has been perceived as the fastest running game character for more than 25 years[5]. Therefore, the development and creation of the Sonic Run mobile application will be a strategy to capture opportunity by using Sega's strengths.
Appendix E: Additional Barriers to Entry
Below is the list of obstacles that may prevent Sega to from entering the smartphon
Cite This Work
To export a reference to this article please select a referencing stye below:
Reference Copied to Clipboard.
Reference Copied to Clipboard.
Reference Copied to Clipboard.
Reference Copied to Clipboard.
Reference Copied to Clipboard.
Reference Copied to Clipboard.
Reference Copied to Clipboard.
DMCA / Removal Request
If you are the original writer of this essay and no longer wish to have your work published on UKEssays.com then please:
Related Services
Our academic writing and marking services can help you!
Prices from
S$203
Approximate costs for:

Undergraduate 2:2
1000 words
7 day delivery
Order an Essay

Humanity University
Dedicated to your worth and value as a human being!
Learn More
Related Lectures
Study for free with our range of university lectures!

Freelance Writing Jobs
Looking for a flexible role?
Do you have a 2:1 degree or higher?
Apply Today!
Study Resources
Free resources to assist you with your university studies!