Academic Performance of International Students - Problems
| | |
| --- | --- |
| ✅ Paper Type: Free Essay | ✅ Subject: Education |
| ✅ Wordcount: 5444 words | ✅ Published: 18th Jun 2018 |
Gaw, K. F. (2000). Reverse culture shock in students returning from overseas. International Journal of Intercultural Relations, 24(1), 83-104. Retrieved from http://search.proquest.com.ezproxy.rit.edu/docview/57515934?accountid=108
Personal and academic challenges faced by the international student in Australia
Abstract:
This research study aims to determine the problems faced by an international student resulting in poor academic performances and also some of the factors that are responsible for the weakness in their study of Kings own Institute (KOI) Sydney. Being new to the abroad learning experiences,students certainly will face many challenges interms of their academic and personal life. Therefore,it will try to identify the problems behind the failures,which not only reduce their grades, but also creates problems in their personal and economic life too. The purpose of this study is to understand the learning experience of international students in this new learning environment. New culture, differences in the learning style, not knowing the proper ways of doing the class assignments,difficulties on managing the job schedule and management of class,difficulties in discourse, the difficulties on language problem further creates a difficulty of adjustment in the new environment. International students from different countries at KOI makes valuable contribution of cultural and language diversity,but at the same time it creates cultural and language differences among student to another student and student with the lecturer and other staff member of the KOI. When student encounter new environment with unfamiliar face,certainly they feel awkward and shy to ask anything or anyone for help which further becomes problematic for them. Hence; the research will look at how things from the new environment are perceived by international students.
Get Help With Your Essay
If you need assistance with writing your essay, our professional essay writing service is here to help!
Essay Writing Service
The consequences of the research will not only be in finding the problems and its causes but also in finding the proper and positive ways to improve and resolve the existing problems and to lessen them somehow by finding out the causes behind the issue. What are the major issues that international students have to face? When they are newcomers in Australia will be the focus question for research. The significance of the study will benefit both the staff member and the future international students who will encounter similar problems at an early phase of starting new abroad experience away from their home. These issues and problems can help the department of KOI to try for more progressive ways to help out and solve the issues of students who are totally lost and confused.
Qualitative research method was used for this research project where face to face interviews to try to understand the issues was conducted with the participants. Five international student from different nationality were taken as the respondent for the research interview and questions. Even though the research has its own significance,scope,aims and objectives,the research had some limitation which was unavoided. Because of the limited time and few respondents . The study would have been more authentic if larger group of people from diverse background and disciplines were interviewed to explore more things and see the comparability.
The findings of the study showed other challenges apart from language barrier ranging from time management,adopting the Australian culture,the proper ways of doing the assignment without plaigairism and proper referencing of the source,accommodation,social isolation,and financial complication. In addition,the interview question with the international students highlighted how educational workshops,help from friend and colleagues,and individual study improved their difficulties and challenges and turn into a better experience of the new learning environment.
All in all, the study will try to understand the views and the opinions of the various participants and try to resolve the issues by comparing and contrasting the problems faced by each participant and also will look at the experiences of the students on their journey of being an overseas student in a different country with different ways of learning.
KEYWORDS: Determine, consequences, conducted, resolve, qualitative method, contrasting.
The research problem:
Studying aboard is a challenging thing for students interms of being able to adjust in every thing that will make things difficult in a new learning environment. The basic purpose of this research will be to seek out the various factors that cause problems for leading to academic failures and also in personal life at King's Own Institute, Sydney. This research aims to investigate the factors that cause stressful situations for students resulting in poor academic performance and various other issues affecting their lives adversely. Most of the international students are from a second language background, which does not include learning in their first language. Even though they have to take some proficiency test (IELTS) in order to meet the entry criteria to the University and campus, they will have a hard time accessing the resources and also in understanding the lectures because of the new information in the new language too.
The main complication faced by the international students is regarded with language and skills needed for academic reading and writing. (Ballard, B. &Clanchy, J. (1997). Even though, language difficulties appears to be a problem for many international students,research has shown that mixture of academic experiences,expectations and differences in the learning and teaching practices also creates problem for them. (Ames, 1996; Bilbow, 1989). At a social level, the sense of loneliness, cultural shock, the necessity to find work, managing the class timetable and work schedule at the same time make them feel more isolated and frustrated in the early months. All of these problems are combined with the study and students also have to pass the demand of KOI to remain in the college here as mentioned in their visa status. The danger of failing the KOI subjects brings additional and heavy stress on students as this also decides their permission to stay in Australia too. There are many benefits offered by KOI at academic and social level but students are sometimes too occupied to benefit from these program and as a result,they fall behind their studies.
Therefore, the scope of this research will be limited to International students at KOI who will be from non-English background countries, who will be both from the Bachelors as well as Masters strands.
If the existing problems are not identified and resolved, then, it may lessen the motivation for the students to move ahead in their life and may cause long-term effects.
Background:
Australia is regarded as one of the most popular destinations for studying, especially for international students. Educational institutions are of high quality and so regarded around the world. Enrolment for higher studies has increased considerably in recent years. Universal understudies pick Australia for the Australian instruction encounter on offer and for the all around perceived, excellent capabilities. The chance to coordinate with a different scope of residential and universal understudies improves this experience. Australian organizations are additionally looking to widen and expand their understudy populace by creating solid associations and coordinated efforts with establishments abroad and encouraging the development of understudy trade through these organizations. Global understudies, aside from their prompt review pathways, set their sights on their future vocation ways, regardless of whether that is at home, in Australia or a third nation. The entrance to work is an exceptionally important resource in pulling in understudies to Australia, particularly in connection to contender nations, for example, the United Kingdom and United States(Australia,Educating globally advice from international education advisory council, p-50-58)
Acceptance and demand for Internationalization and Globalization of the world have increased the flow of students from different parts of the world to Australia. The world is going thorug numerous changes in the field of science,technology,media and medicine which is revolutionisng the field of education too. ( NorzainiAzman, Yang Farina Abd. Aziz,2006) .
Striving for better opportunities and dreams of a better life has always attracted overseas students to come to Australia. Multiculturalism and biodiversity among the people have further led overseas students to be positive about this country too. International students have always made a positive contribution to their Universities, or college. The flow of cultural diversity and exchange, the increment of financial revenue for the colleges through payment from tuition fees by international students and the cost of living expenses has further had ensured warm welcome for international students in various universities and educational institutes across Australia.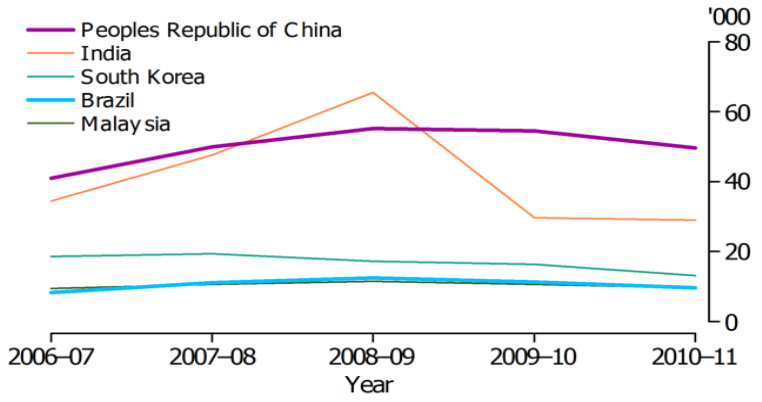 Source: Department of Immigration and Citizenship, Student visa program,Accessed on 18th January,2017,Retrieved from Australian social trends December 2011(ABS)
The above graph clearly shows the variation and origin of students in Australia from various backgrounds because of which, all students both native and non-native have developed sensitivity to other students as a result of dealing with students from different backgrounds too. Having students from overseas have always made a positive contribution in Australia.
Australia has always been regarded as a developed country in terms of providing facilities to the people in various fields. Employment, education, and the technological field have always been focused on and achieve success in various important fields and given opportunities to the people too. Renowned universities and colleges are found in Australia which provides the best education both practically and theoretically.
International students have to deal with many problems. Differences in the education system compared to their home country makes it more confusing for them while doing the assignments and not knowing the accepted way to solve their problems too. Knowledge about the library resources ,proper style of referencing and formats are very necessary for students but they lack such skills which creates further problem for them. (Martin Zimerman, (2012),pp. 290 – 299). The important part for academic writing is to acknowledge the concerned sources, hence, not knowing the right way to reference the text and sources makes them more confused ,which in a way must be solved by seeking out help form the instructors who can help in summarizing the complex text through academic style. Furthermore, the Instructors can also arrange workshops appropriate for tutoring (Rebecca Moore Howard, p-799-781)
Ways of performing their work and carrying it out have to followthe accepted method of the country in which they are working. The language barrier is another factor that makes it difficult for them understand the lectures being given because of their lecturer's accent they are not familiar with. Students pretend to understand the lessons in order to be equal to the native speakers because of the limited language proficiency. When students are new to the learning environment they are unfamiliar with the people and the context of the study which makes them shyand introvertwhich makes them worried and tense during social interactions(Australian psychological association,2012)
A Better Education determines a better future for the student. Education shapes the student's present career and makes them ready for future opportunities so that they can sustain their living and have a better life. Therefore, it is required to address the personal and academic challenges faced by international students and find a possible solution to resolve those issues too. Not only students but the concerned and responsible organization should also show some interest in solving the issues faced by the students in order to help them progress in a more organizedway. Universities and colleges should also organize a workshop program where the international students can be a part of it and be familiar with Study Materials such as the library and make-up classes and extra language and also with other fellow classmates and also with the languages being used for the interaction. The arrangement of the cultural and recreational activities by the Educational institutes can develop a sense of group understanding among other students. Assisting students with clear guidelines required for the assignment, and helping them by providing the sample answers can make them do their assignment better.
For the language barriers to be overcome, educational institutions must organize English Development Classes every week (like the ones existing at KOI) in order to be familiar with the various accents (lectures delivered in English), vocabulary, and words. This way, students can understand the topic being discussed in the class and contribute to their conversation being taught in the class too. Universities and colleges should be willing to assist the students socially, culturally and academically. Proper guidance from the teachers, Universities staff's, head of the Faculty members, and a support from their fellow classmates can surely make students lessen their problem regarding the assignment problems, language barriers and other related issues faced by the students. Better and mutual understanding among the teachers and the students will develop the sense of communication, which will help in notifying the issues being raised, existed and the ways to solve those problems in an efficient and effective way too.
Ethical consideration:
"Being ethical' means that your project does not bring harm or disadvantage to anyone who takes part, including yourself"-(Lambert, M. 2012).
Carrying out an ethical research means to involve the collection of the information and data from people without any intention of harming them and putting them at risk. Therefore the researcher has to conduct the research in an ethical way. Research needs to be undertaken under the Legal frameworks and regulation which must be followed as per the rules and regulations of the concerned institutions. The research project needs to have a detailed plan of the research for the approval to prove the relevance of the research in order to start a research. After that, there needs to be approval from the participants too. Participants of the research have every right to know about the subject matter and need to agree before starting the research. The researcher needs to get approval from the participant and also should provide a consent form. The main aim of the research will be to find a reasonable solution rather than being used for the personal benefit of the researcher.
Therefore some of the other factors to be followed during the research process are:
Honesty:
The researcher should be honest about the information given by the informants and try not to misinterpret or misrepresent it. It should be recorded in the way it is. The researcher should also avoid mis-leading the participants inorderto get an honest answers from them. . So, the researcher needs to be clear in front of the participants about the research and the processes involved in tithe participants of the researcher should be made very clear about the purposes of the study, and also about the methods being used while conducting the research
Objectivity:
The researcher should be neutral and should avoid biasness interms of sex,race and ethnicity. Prevention of harm and risks, honest and truth, Privacy, confidentiality, anonymity intervention are some of the things to be kept in mind before and during the research. The researcher should avoid bias between the participants too.
Confidentiality:
The researcher should protect the confidential information and the recorded data given by the informants. Personalinformations and secrets shared by them should not be disclosed and should be kept confidential.
Anonymity:
In some case the informants are not willing to share their name and contact details. Therefore their anonymity should alswyas be respected and protected making sure that it is not disclosed anywhere. Anonymity of individuals and organisations also has to be maintained(Bryman Alan and Emma Bell,2007)
Legality:
The researcher should follow and obey the rules and regulations that's needs to be followed without any intention of harming or causing problem to anyone.
Survey of Literature:
The literature review will look at the research that has been done in the past and published by various authors on the subject matter and the solution for resolving the issues for the challenges faced by an international student for the backwardness in their study and poor performances making their life more stressful. Some of the literature review on the regarded subject matter is mentioned below;
Loneliness and international students an Australian study,2008, Journal of studies in international education. United States: Sage Publications, Inc. , 2008. Vol. 12, no. 2 (Summer 2008), p. 148-180.
In a study of international student security, consisting of 200 intensive interviews with students, resident onshore in Australia, it was found that two-thirds of the group had experienced problems of loneliness and/or isolation, especially in the early months where students feel more lonely because of having no friends at all and also because of the loss of regular contact with their families, relatives, and friends.
According to Higher Education Research & Development, Volume 10, Issue 1, 1991,
Overseas students bring to Australia a very different cultural, social and intellectual experience from that which awaits them. Reviews of previous studies suggest that their beliefs, values, and attitudes to knowledge, to styles of learning and study, can lead to study shock. A questionnaire survey of a sample of 133 first year overseas students mainly from Singapore, Malaysia and Hong Kong, most of whom were studying for a Bachelor of Business degree, and 76 Australian-born first year students mainly of British and European origin from the same classes, showed that compared to local students the overseas group had significantly greater difficulties adjusting to academic requirements, particularly with regard to managing the demands of study, specifically study methods, independent learning, language skills, participation and time management.
Danny Ong, 2009, A UNSW press book, The international student's handbook, Living and studying in Australia.
The last two decades have seen a second wave statistics of international students coming to Australian Universities. The enormous growth in the number of such students is unequaled around the world. The majority of these students have very positive experiences and surveys generally show a high level of satisfaction. However, many hazards await students, and the Universities and the relevant government have shown a varying ability to address these optimally. Issues such as finding suitable accommodation, health care including a mental health care, homesickness, the costs of living and travel, and the safety of the students are all significant concerns.
Find Out How UKEssays.com Can Help You!
Our academic experts are ready and waiting to assist with any writing project you may have. From simple essay plans, through to full dissertations, you can guarantee we have a service perfectly matched to your needs.
View our services
Andrade, Maureen Snow, (2006) writes, International students in institutions of higher education in English-speaking countries make valuable educational and economic contributions. For these benefits to continue, universities must become more knowledgeable about the adjustment issues these students face and implement appropriate support services. This review identifies factors that influence the adjustment and academic achievement of international students. Adjustment challenges are primarily attributable to English language proficiency and culture. Achievement is affected by English proficiency, academic skills, and educational background. Understanding international student adjustment issues has global implications for intercultural education too.
Learning at University: The International Student Experience, Meeri Hellsten and Anne Prescott, volume 5, no. 3, 2004, International Education Journal:
The The journal explains how lack of communication between students and teahers adversely affect the students learning. The stereotype of Asian background students of being slow,and passive infornt of their colleagues and teacher makes them feel like they cant contribute in class discussion because of the inferiority of making mistakes.
Yes. Um they [teachers] think it's a job. They ask something. We say nothing 'cause we wanna say but (inaudible) shy. And I'm afraid sometimes I'll make a mistake.
The above statement from one of the student from the journal mentioned how assumption of an individual can create problems for communicating and also in learning process. The journal also stated how leaving away from family,friends and relatives is an awful experience for younger international students interms of acculturations,adaptation to the new learning environment,and communication problem which lacks support from the teaching staff too. The findings from the study in the journal mentioned the busy schedules of the teaching staff because of which even the students wanted help from the teacher,the student was unable to get any support to solve the issue.
Aims and objectives of the Research:
The international students come to Australia with the aim of studying and getting a qualification which will lead them to a better life in Australia or other English speaking countries. The aim is to become proficient in English and live possibly in English speaking countries. This is one of the pressures on the students as their parents are pressurizing them . That's an external challenge but there are numerous challenges arising during their study and stay in Australia. The students not only have to be aware of the program but at social level and academic level the students have to be aware of how they use their English on different profession, socialpeople,academic reading and writing. This review expects to give keen data furthermore, direction not just for ebb and flow and future universal research understudies in Australian colleges, additionally for different instructive administrations and significant government organizations to give more successful support to them (Joanne sin Wei Yeoh,University of Tasmania,pg-1)
The social challenges are cultural, in that Australia has very different culture part of which is based on English culture and but part of it now is based on mixed race background of the many other country people who live in Australia. For example; as stated by the (Australian bureau statistics ABS, 2012), the second most spoken language in Australia is Mandarin (1. 6per cent), Italian (1. 4 per cent) and Arabic (1. 3 per cent) respectively. There are many Chinese; there are many Italian and many Arabic and people from all over the world. Andtherefore, there are different cultural habits, and attitudes with which the student must become familiar and must learn not to object to the practices of other people. Thats a very difficult thing for some people. Therefore, the research will look at some of the issues and the questions, which will help for getting more information's.
How the international students cope with various challenges occurring in the new learning environment?
As a part of the social challenge, there is the food, much of which can be very different to their home country and then there is the behavior of people that are regarded a bad mannered, not standing back for other people or for women. For example in Australia, walking on the left is important, especially in the crowded areas. These are all the things to which students have to get used. But, intellectual or mental problems are also considerably important. The education in Australia is of much more personally oriented rather than group oriented. In that it's aimed at individuals and therefore, in that one has to learn virtually twolanguages. One is the language of social interaction and one is the language of professional interaction and the vocabularies of each of those are very important.
The research basically aims to evaluate the different factors behind the poor academic performance of the international students of KOI and its effects on their personal life which challenges their stay in Australia. The objectives of the research will be to identify the various challenges faced by the students of KOI and try to find effective solutions and accomplish the aim of resolving those issues and problems in order to make it easier for them to tackle such problems in an easy way.
How will they try to understand the different methods of learning?
The method of learning in Australia is very much the personal responsibility of the student and they have to get involved in learning as a person not as a member of a group. They have to individualize their learning because the learning that they were doing is the learning so that the person can cope in the society. So, they must as said above have two different vocabularies for personal interaction and the vocabulary language needed for academic interaction. These two languages are very important and are too often neglected by incomers to the society in Australia.
The Personal interaction and personal vocabulary for one on one conversation is regarded as extremely important in Australia. The ability to get on with other people in on one on one talk is very important. Inbusiness or in professions there are specific vocabularies and there is almost a specific grammar and this has to be learned by practice. So, in school or for the new comers they have to learn, how to get on with people they don't know and that's important.
What are the disadvantages and advantages of being a Non-Native speaker at KOI?
Firstly the language used in class is English and the language used by the lecturers and teachers is also English and may be of a kind of English that is different to what you learned because while the lecturers are English speakers, many of them are from non-English speaking cultures. So, some of them would make a difference. The disadvantage also is that the learning of vocabulary learned is specific and one has to learn all the words that deal with that language and in order to get control of the vocabulary needed to cope with that particular profession. Are there a advantage of being a non-native speaker, there are some, in that everyone at KOI, there are many different language background and therefore everyone is forced to speak a clear version of the English language and they are expected to deal with students being aware of that kind of problem and how you use the English at different sector socially, professionally and academically.
Research Design:
This research study will use a qualitative approach. This methodology will have great role as regard to researcher as they will be involved in every steps taken before and during the research process, planning and reporting. Qualitative approach helps for doing the social issues as there is an active participation and interaction both between the researchers and the individuals involved in it.
Thematizing(What is going to be studied), how the research should be designed,How the interviews will be conducted and recorded, are some of the key points to be followed during the process of research based on qualitative research. Here, qualitative researcher must be personally involved in every research process as researcher is the final person to decide what must be included in that particular subject of research. (Anne Sofia Fink,
2000). Interviews have a moral issues; they concern interpersonal exchange of information resulting data about the human personal life and condition. Maintainingconfidentiality,informed consent and secrecy is problematic issue to handle during the data collection from this methodology. The qualitative method will help us get the information through in-depth interviews of the related focus group. It is at this point that the information from the focused group is emphasized. Center gatherings are thought up settings, uniting a particularly picked area of the populace to examine a specific given topic or subject, where the connection with the assemble prompts to information and results. Theresearch will be reliable only if the research question is carried out in similar group of respondents in similar context to get similar results(pg-284-290,Louis cohen,Lawrencemanion and Keith morrission). Since the focused group is normally at the undergraduate level and post-graduate level (depending on the countries they are originated from), the participants will be limited and would randomly be selected as it's not possible to include every one of them. Students ranging from 4-7will be included from diverse subject background and nation. Interview with several respondents and questions of same topic increases comparability which reduces bias among the participant and their opinon about the topic. (p-355,6th edition,Louis cohen,Lawrencemanion and Keith morrission)
Quantitative research is based on numbers and statistics but Qualitative research is not related to the numeric data and information so everything needs to be recorded as the methodology seek to collect information about a small number of respondents (Saunders, Lewis, & Thornhill, 2009). Recordings from audio will be taken with the approval of the participants in order to study the tone and their way of expression. Everything must be recorded and analyzed in order to include all information and not to miss out on any information provided by the participants.
As mentioned above, Interview was taken among students which included the following question:
1. What were the major difficulties you faced while you were new in Australia?
2. What measures did you take to resolve those challenges?
3. What were your expectations before applying and coming to Australia?
4. What were the differences you found in terms of culture between Australia and your home country?
5. What did you do to cope up with following things?
Differences in culture
Homesickness
Job schedules and class management
Assignment stress
And language problem
References:
American Psychological Association. (2012). Shyness. Retrieved on January 31st 2017, from http:
//www. apa. org/topics/shyness/index. aspx
Andrade, Maureen Snow. "International students in English-speaking universities Adjustment factors. " Journal of Research in International Education 5. 2 (2006): 131-154.
Ames, M. (1996). Oxford Brookes: The international student experience. Oxford: Oxford Brookes University.
Cite This Work
To export a reference to this article please select a referencing stye below:
Reference Copied to Clipboard.
Reference Copied to Clipboard.
Reference Copied to Clipboard.
Reference Copied to Clipboard.
Reference Copied to Clipboard.
Reference Copied to Clipboard.
Reference Copied to Clipboard.
DMCA / Removal Request
If you are the original writer of this essay and no longer wish to have your work published on UKEssays.com then please:
Related Services
Our academic writing and marking services can help you!
Prices from
SGD205.84
Approximate costs for:

Undergraduate 2:2
1000 words
7 day delivery
Order an Essay

Humanity University
Dedicated to your worth and value as a human being!
Learn More
Related Lectures
Study for free with our range of university lectures!

Freelance Writing Jobs
Looking for a flexible role?
Do you have a 2:1 degree or higher?
Apply Today!
Study Resources
Free resources to assist you with your university studies!