Australia Country Profile
| | |
| --- | --- |
| ✅ Paper Type: Free Essay | ✅ Subject: Geography |
| ✅ Wordcount: 1739 words | ✅ Published: 18th May 2020 |
Australia is in the Oceania continent located at the Geographic coordinates of 27.00 S, 133.00 E. It is located between Indian Ocean and the South Pacific Ocean. Australia is not a small continent as compared to the United States; it is barely smaller than the 48 states in the main portion of the United States. It has total area of 7,741,220 square kilometers, and 7,682,300 square kilometers of that is actual land. Australia's capital is Canberra, which located in the southwest side of the country in New South Wales. In the census taken in July of 2018 the population of Australia came in at 23,470,145 people. This would produce a population density of 3.03 per square kilometer. The climate in Australia is arid to semiarid. It tends to be more tropical towards the north as it gets closer to the equator, which is to be expected. Toward the south it is more temperate. Along with any natural area there will be some type of natural hazards. Australia has a unique natural hazard however, that being Volcanism on the Heard and McDonald Islands. This is not the only type of natural hazards that need to be worried about. Along the coast line there are cyclones, and further inland there are severe drought and forest fires. Australia also has many issues with the environment as does any country with people in it. There is plenty soil erosion from a variety of different things including: overgrazing, deforestation, industrial development, urbanization, and poor farming practices. Australia is also dealing with the rise of soil salinity. As well as the Great Barrier Reef is being threatened because of an increase of shipping coming through the ocean. There are many other problems including, but not limited to: pollution, fishing, clearing of land for Agriculture purposes.
Australia is unique because its topography changes quite a bit between each area of land. Most if the western half of the country is plateau filled with deserts and rocks. This area is four times larger than Texas itself. The Western Plateau is pretty much uninhabited except right along the coastline. The interesting part is when shifted toward the central plains the topography is totally different. The Central Plain is mostly a basin region. Overall, the land in the Central plains lowlands with the largest area in the world of internal drainage. Shifting to Eastern Australia, again is totally different. One can split the Topography of Eastern Australia into two different areas the Eastern Coastal plains and the Eastern Highlands. The Coastal plain is strip of fertile land that runs on the Eastern Coast line of Australia. The Eastern Highland of Australia is the most diverse area of land in all of Australia. It has everything from hills to plains to escarpments. The Altitude ranges from 300 meter to over 2,100 meters. The highest altitude is located on Mount Kosciuszko at an elevation of 2,228 meters high. Under sea level in the ocean there lies the Great Barrier Reef, and it is blend of 2,900 total reefs. This reef covers an area pf 344,400 square kilometers. Australia has many islands off the coast of the main area. The largest is Tasmania and it is 150 miles south of Australia.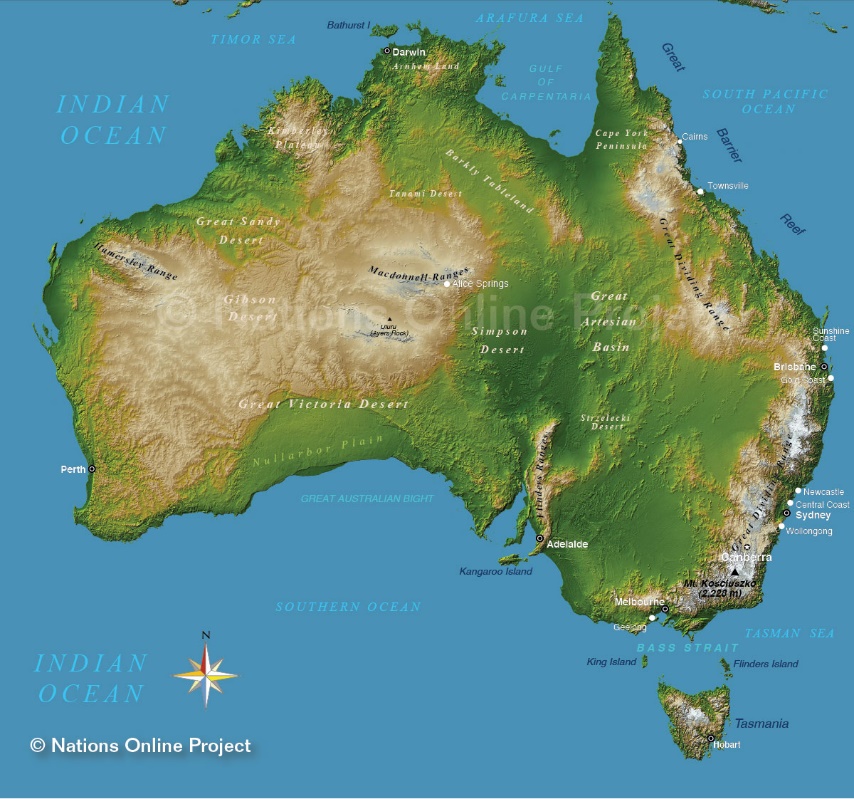 Australia falls below the equator so it has vast variety of climates. The northern part of Australia falls closer to the equator so it has more of a hot and humid summer, and dry and warmer winters. The Southern part of Australia has mild summers and rainy winters. The northern and southern part are almost exact opposites of each other in terms of climate.
Australia's temperature is significantly different than that of Texas. Australia's average high in July generally sits right around 62 degrees Fahrenheit, and the average low sits right at 47 degrees Fahrenheit. January, on the other hand is a different story. The average in January sits anywhere between 68 and 80 degrees Fahrenheit. The map on the bottom is taken in September, and one can see between the two months the average temperatures. Australia, as can be observed follows a much different weather pattern than the United States follows. In the capital Canberra the average rainfall is pretty low. In July the average rainfall is 1.6 inches, and in January the average rainfall is 2.4 inches. As can see from the Precipitation map, the closer to the equator, the more precipitation.
Australia has a few different types of vegetation that grows. Many tropical plants grow right along the coastal line as it is more humid. The coastal line consisted of many rainforest type plants, which make it very green. Once one starts moving inland there is some savannah that acts as a buffer between the Tropical climate and the dry desert climate. In the Savannah one can expect grassy wooded areas all around, and in the desert, it is typically pretty empty with not much life. One can get an idea of this by looking at the map below.
Soil is one Australia's best resources. There are many great places in the country for Agriculture and for planting vegetation. There are a few different types of soil the country has to offer: Gradational soils, wet soils, organic soils, sandy soils, and cracking clay. There are a few others like mixture of different types of soil, and soil that has not been developed. A significant amount of the soil in Australia is part of the desert land, and is deemed weakly developed soil, which often times cannot be planted in.
As every human populated area there are environmental issues with Australia. As mentioned above there is a good amount of soil erosion that is happening in Australia, and a large cause of this is overgrazing of cattle, and poor farm practices. Another large environmental issue for Australia is the Great Coral Reef. The increase of shipping, tourists, and fishing, the coral reef is in direct line of threat from these things. Often time also there natural hazards that are faced, and a large one is forest fires. These typically happen in the Savannah/tropical portion, because it has the most heat, as well as vegetation that can start on fire. As seen below this map was made for the 2015-2016 bush fire outlook, and it shows the high potential being around the Savannah/Tropical area.
The satellite view Australia below shows the country starting to brace for two different cyclones touch land. Cyclone Veronica is about to hit the Eastern side of the country, and Cyclone Trever is about to make impact on the north side. Both hit in the Spring of 2019 as category 4 storms. 
Work Cited
"Australian Biomes." Australian Biomes, mainweb-v.musc.edu/cando/ausdwnun/biom.html. Accessed 18 June 2019
CIA. "The World Factbook: Australia." Central Intelligence Agency, Central Intelligence Agency, 1 Feb. 2018, www.cia.gov/library/publications/the-world-factbook/geos/as.html. Accessed 18 June 2019
"Climate – Australia." Australia Climate: Average Weather, Temperature, Precipitation, Best Time, 2019, www.climatestotravel.com/climate/australia. Accessed 19 June 2019
Doyle, Kate. "Above-Average Temperatures Predicted Heading into Summer." ABC News, 26 Oct. 2017, www.abc.net.au/news/2017-10-26/above-average-temperatures-bom-climate-outlook-nov-jan/9087564. Accessed 18 June 2019
Lesslie, Rob, and Jodie Mewett. "Land Use in Australia." ANU, The Australian National University, 11 Apr. 2019, press-files.anu.edu.au/downloads/press/n4113/html/ch03.xhtml. Accessed 18 June 2019
Nationsonline.org, Klaus Kästle -. "___ Topographic Map of Australia." Topographic Map of Australia – Nations Online Project, www.nationsonline.org/oneworld/map/australia-topographic-map.htm. Accessed 19 June 2019
"Northern Australia Braces for a Pair of Cyclones." NASA, NASA, 22 Mar. 2019, earthobservatory.nasa.gov/images/144733/northern-australia-braces-for-a-pair-of-cyclones. Accessed 19 June 2019
"Southern Australia Seasonal Bushfire Outlook 2015-16." Southern Australia Seasonal Bushfire Outlook 2015-16 | Bushfire & Natural Hazards CRC, 2015, www.bnhcrc.com.au/hazardnotes/010. Accessed 19 June 2019
Thomas, G.P. "Australia: Environmental Issues, Policies and Clean Technology." AZoCleantech.com, 17 Apr. 2019, www.azocleantech.com/article.aspx?ArticleID=237. Accessed 18 June 2019
Vidot, Anna. "New Records Tipped to Fall as Australia Braces for Second Heatwave." ABC News, 26 Sept. 2017, www.abc.net.au/news/2017-09-26/bom-records-will-fall-as-eastern-australia-braces-for-heatwave/8988650. Accessed 19 June 2019
Weatheronline.co.uk. "Australia." WeatherOnline, www.weatheronline.co.uk/reports/climate/Australia.htm. Accessed 18 June 2019
Weatheronline.co.uk. "Max Temperature [°C]." WeatherOnline, 6 June 2019, www.weatheronline.co.uk/weather/maps/forecastmaps?LANG=en&CONT=aupa&MAPS=vtx&LOOP=0&LAND=AU&MORE=1&UP=0&R=0&DAY=0. Accessed 18 June 2019
"WeatherSpark.com." Average Weather in July in Sydney, Australia – Weather Spark, 2016, weatherspark.com/m/144544/7/Average-Weather-in-July-in-Sydney-Australia. Accessed 18 June 2019
Cite This Work
To export a reference to this article please select a referencing stye below:
Reference Copied to Clipboard.
Reference Copied to Clipboard.
Reference Copied to Clipboard.
Reference Copied to Clipboard.
Reference Copied to Clipboard.
Reference Copied to Clipboard.
Reference Copied to Clipboard.
DMCA / Removal Request
If you are the original writer of this essay and no longer wish to have your work published on UKEssays.com then please: