Effective Next-generation WAN Architecture
| | |
| --- | --- |
| ✅ Paper Type: Free Essay | ✅ Subject: Information Technology |
| ✅ Wordcount: 2277 words | ✅ Published: 6th Sep 2017 |
WAN Architecture
Get robust, scalable, and easy-to-use management tools that can handle the complexity of your multiservice and packet voice network.  WAN provides extensive, reliable, and scalable element management capabilities to help you rapidly deploy and manage services. The high-performance carrier-class element and network management product is deployed worldwide in some of the largest service provider networks. It can operate as a standalone system or can be integrated as an element using its northbound interfaces for highly efficient flow-through operations
Enhanced operator workflow and usability simplify configuration, fault monitoring, and troubleshooting operations.
The enterprise business is changing as new types of payroll systems.. As the number of branches continues to increase, the reliable and secure delivery of these evolving services demands a network that can similarly evolve to meet these demands and enable business success.
IT professionals require higher network performance, scalability, availability, security, and service capabilities. The Branch-WAN payroll system architecture is developed to address these key areas of customer concerns. To meet these requirements, the Branch-WAN payroll system architecture features scalable and resilient network infrastructure, integrated security, wireless, and payroll system intelligence to provide seamless service capabilities that include Unified Communication, media collaboration, and data/Web 2.0.
Architecture
This is dedicated to delivering solutions that meet and exceed customers' business and technology requirements by integrating best technologies, services, and platforms. The WAN Payroll system architecture is part of a comprehensive approach to providing an end-to-end enterprise network architecture. This model is known as Places in the Network architecture.
The architecture addresses the differing requirements for systems design and deployment in the three principal network areas: the campus, the data center, Internet edge, and the WAN. See Figure 1
Figure 1: Architecture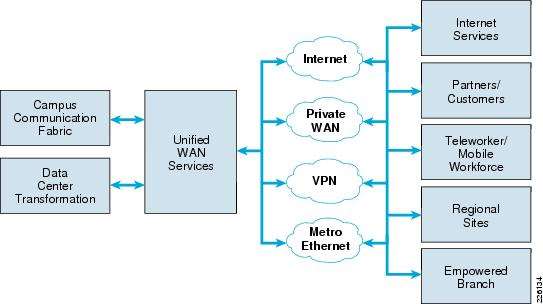 When discussing an enterprise network, it is important to consider that most networks are built from a discreet set of interconnected, architectural elements-each of which has its own requirements. A branch office, for example, may not have the same scalability requirements as a data center, but has a greater need for reduced form-factor devices with high-value integrated services.
The typical corporate campus network offers users high speed and secure network connectivity, Unified Communication services, wireless services, and access to corporate payroll systems and databases. A well-engineered network must offer workers at branch sites the same network services as campus workers, to maximize productivity and ensure business objectives are met. The Branch-WAN payroll system architecture offers an end-to- end system design that delivers a flexible, scalable, and secure network that supports advanced network services for branch office workers.
Figure 2: WAN Payroll system architecture (Frame work)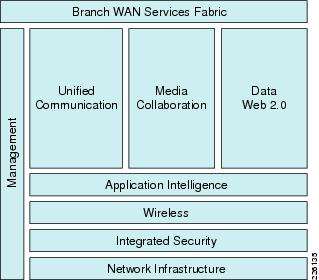 The WAN payroll system architecture shown in Figure 2 has the following layers:
•

Network Infrastructure-The foundation that provides routing, switching, quality-of-service (QoS), high availability, and other functionalities to ensure that the network is scalable, flexible, and resilient.
•

Integrated Security-This layer extends the corporate security policy to the branch, providing network infrastructure protection, secure communication, threat mitigation, and network monitoring across both the Branch and WAN PINs.
•

Wireless-this layer provides user network connectivity anywhere within the enterprise, giving employees greater flexibility, and increased productivity.
•

Payroll system Intelligence-this layer provides various payroll system optimization techniques using optimization (i.e., TCP flow optimization, data redundancy elimination) and control for payroll system classification and prioritization using QoS. This optimizes use of the WAN bandwidth and, enables branch users to access the same payroll systems as campus users, with similar user experience.
•

Management-this layer provides the ability to easily provision and monitor the network.
With these layers, it is imperative that unified communication (i.e., Unified Communication), Media Collaboration (i.e., Tele presence, IP Video Surveillance, Desktop Video, and Digital Media Systems), and Data Web 2.0 (i.e., collaboration payroll systems) work seamlessly across the Branch-WAN solution.
Technologies Considered
Types:
There are number of WAN technologies like point to point connection, circuit switching and packet switching. The WAN communication which is carried over a leased line is called point to point connection. In a point to point network the message from the customers end is traveled to the remote user via an ISP. Circuit switching is the data communication which is stared when there is need to communicate and it is terminated afterwards. It is like a telephone call. When the two users arte connected and identified, the data is transferred in other words voice is transferred. When the transmission of the data is complete the call is disconnected again. Packet switching data network is a WAN technology in which the network of the user is established in the carrier's system. The examples of packet switching network include asynchronous transfer mode (ATM), switched multi megabyte data services (SMDS) and frame relay.
Optimization
The purpose of WAN optimization is to eliminate the flaws in the packet data transfer in shared WAN systems. There are many techniques of optimizing the WAN technology. These optimization techniques include duplication, compression, cashing, protocol spoofing, traffic shaping, equalizing, connection limits and simple rate limits. The process of duplication sends a reference of the actual data, this helps in preventing from data redundancy. In order to present data patterns in an efficient manner compression is used. The process of caching reduces the bandwidth up to 30%. The multiple requests are tied in one bundle using protocol spoofing. Traffic shaping controls the amount of data handling and also monitors and guides the data traffic. When the data is sent according to the priority of the data usage it is known as equalizing. Connection limit averts from the access grid locks in access points and routers due to the lack of service or peer to peer connection. Simple rate limits the users from getting more than the data which has been fixed for their use. The purport of WAN optimization is to overcome the difficulties such as expensive bandwidth and to decrease the user's experience time. The scalability of WAN is nowadays an important consideration and hence WAN optimization is used to target such issues as well.
The typical small branch design includes a 1.5 Mbps Ethernet private WAN connection. The router terminates the VPN and routing from the central site and implements QoS policy. The router also hosts the following integrated services:
•

Security (Firewall, IPS)
•

Unified Communications (SRST, FXO / FXS ports)
•

Payroll system intelligence
The branch also includes a Layer-2 access switch with the following key features:
•

Power-over-Ethernet (PoE)
•

DHCP snooping
•

Spanning tree
•

Class-of-Service (CoS) on access ports
•

QoS
•

Port security
•

Dynamic Address Repayroll system architecture Protocol (ARP) Inspection
Wireless LAN may be implemented with a router module or standalone controller/switch.
New Issues
The key to an effective next-generation WAN architecture? Match technologies and services to interconnection requirements. Herewith a blueprint:
Data center-to-data center connectivity: Data center interconnectivity requires high-capacity, low latency links. Although multiprotocol label-switching (MPLS) can do the trick, it's often an expensive solution. Telecom architects are increasingly turning to solutions such as carrier Ethernet (either point-to-point or virtual private LAN service, VPLS), or dark fiber or wavelength services. Seventy-one percent of organizations will be deploying some form of carrier Ethernet by the end of 2010, typically for data center-to-data center connectivity.
Why? Three reasons: First is cost. On a per-megabit-per-second basis, carrier Ethernet can run 25% to 50% lower than other technologies. Second is bandwidth: with Carrier Ethernet, users are able to procure up to 10Gbps of bandwidth (the equivalent of 2.5 OC-768 circuits). As a result, as bandwidth requirements increase, carrier Ethernet becomes more appealing. Finally, there's the ease of deployment and management. Users report that carrier Ethernet is straightforward to install, and performs reliably. "Right off the bat, it worked like a charm," says the CIO of a midsized professional services firm.
Data center-to-branch, and branch-to-branch, connectivity: Most organizations (80%) have deployed MPLS, and plan to continue using it for site-to-site connectivity (at least for midsized-to-large sites). Some firms – mostly leading-edge organizations – are also looking at rolling out carrier Ethernet for the "core" WAN. The primary challenge? Availability. Carrier Ethernet isn't as widely-available as MPLS.
Remote-site and micro branch connectivity: For smaller sites, companies are exploring a range of connectivity options. An Internet VPN is one approach (and one that's increasingly common). A more innovative approach is to deploy 4G wireless technologies, either direct to the router or to each individual employee. Again, the challenge here is availability: Most carriers are just beginning to roll out broadband wireless (in the U.S. at least). Another problem is capacity: Carriers haven't designed their networks for use as wired-WAN replacements.
References:
en.wikipedia.org/wiki/Application_architecture
apparchguide.codeplex.com/
www.amazon.com/Patterns…Application-Architecture…/0321127420
Cite This Work
To export a reference to this article please select a referencing stye below:
Reference Copied to Clipboard.
Reference Copied to Clipboard.
Reference Copied to Clipboard.
Reference Copied to Clipboard.
Reference Copied to Clipboard.
Reference Copied to Clipboard.
Reference Copied to Clipboard.
DMCA / Removal Request
If you are the original writer of this essay and no longer wish to have your work published on UKEssays.com then please: